entrepreneurship
entrepreneurship
UG Chemistry graduate-turned-detergent manufacturer seeks more local market space
25th November, 2017
0 comments
A year into owning and operating what is almost certainly the first local company to manufacture such a broad range of detergents and sanitizers, Melissa Younge readily admits that her efforts to secure significant market recognition against a product base long dominated by better-known foreign brands has been no proverbial 'walk in the park.' Far from losing heart, however, she appears determined to soldier on, seemingly animated by a feeling that as far as business trends are concerned, the proverbial work is beginning to turn in Guyana.
For now, she is encouraged by the reviews of a modest customer base that includes Andrews Supermarket, a relatively small community supermarket on Aubrey Barker Road in South Ruimveldt.
Tidy Up, the brand name given to Dunae Trading's products, comprises eight cleansing-related products………… Dishwashing Liquid, Antibacterial Handsoap, Multipurpose Cleaner, Disinfectant Liquid, Laundry Detergent Liquid, Fabric Softener, Ecoguard Carwash Liquid and Ecoguard Degreaser Liquid. Each of these, she says, has benefitted from the fact that she is well-schooled in the science associated with their research and production.
She has entered the realm of manufacturing cleaning agents with an eye-catching resume that ranges from a Bsc. Degree in Chemistry from the University of Guyana to holding down various sensitive positions in Quality Control and Laboratory Management in local companies including the National Milling Company (NAMILCO) and the paint manufacturers, Torginol. In Trinidad and Tobago, where she has also lived and worked, she remained in the same field. It was after she moved to Dominica, however, that she began work in earnest developing her own line of janitorial products and while there still remains a considerable gap between investment and returns, a circumstance that can easily cause lesser entrepreneurial spirits to sink, Melissa remains optimistic.
She had been challenged to bring her skills and her entrepreneurial outlook back to Guyana by the promise it has always offered as a country that had, over the years, advocated local market opportunity for home-grown products; and if – or at least so it seems – her faith in that philosophy remains undiminished she is unhesitating in her view that the now decades-old 'buy local' slogan cannot stand in isolation from concrete policies that provide the concept with sturdy legs upon which to stand.
If she is firm in her view that supermarket shelves and other outlets must help to reflect the country's manufacturing base, hers, she says, is no arbitrary protectionist policy. By the same token she believes that space simply must be created for locally manufactured products that have evolved out of hard work and costly investment by mostly single investors and family groups. The 'buy local' policy, she says, must begin with an aggressive and wide-ranging support for the efforts of local manufacturers and extend to a preparedness on the parts of both distributors and consumers to be ready to at least test the quality and the cost of the imported products, backed by strong branding and big advertising budgets against the locally produced options.
In her quest to grow the local market for the Tidy Up range, Melissa says that she has encountered some barriers that have been frustrating…like tedious (even if understandable) tender procedures that frustrate her efforts to get her cleaning agents established is the washrooms and other spaces in state-run premises and what she considers to be the altogether unacceptable habit of tender notices that actually name the brands of cleaning and sanitizing agents which clients are in the market for, a circumstance which, she says, amounts to a negative comment on the locally produced options. "Those stipulations, she says, have the effect of locking out many local products."
She welcomes the commitment given recently by Small Business Bureau Chief Executive Officer, Dr. Lowell Porter that the Bureau will give its support to the continued growth of emerging businesses by allocating resources to training and further investment though she believes that a real breakthrough for emerging manufacturing entities like Dunae Trading may well rest with the actualization of the provision in the Small Business Act that allows for 20% of state contracts to be allocated to the small business sector.
If, she says, she does not want to paint a picture of a small business sector that is thoroughly dependent on being propped up by the state she believes that when the larger role of small and medium-scale enterprises is considered in the context of its potential contribution to economic growth and to boosting employment levels, government has every incentive to show the way, to seek out opportunities to help to raise the sector off the floor. Melissa, however, refuses to wait around. She says she intends to knock on doors and seek the kind of support which she believes can turn around the fortunes of the modest manufacturers as a whole, confident that given the work that it has done over the past year Dunae Trading and its Tidy Up Products can get caught up in the forward-moving groundswell.
Article adapted from: https://www.stabroeknews.com/2017/business/11/24/ug-chemistry-graduate-turned-detergent-manufacturer-seeks-more-local-market-space-2/
Meet the man behind the 'Google of Guyana'
16th July, 2017
0 comments
When Triston Thompson and his cousin decided to launch information technology company IntellectStorm in 2014, they knew they would have an uphill battle.
"IT is not something that is adopted that much in Guyana," the 20-year-old explained. "Businesses are still stuck in their old way of doing things."
Thompson wanted to help bring his country into the 21st century. He had studied computer science and graduated cum laude from the University of Guyana. Through IntellectStorm, he wants to show people how the internet can be used as a tool to engage customers and build relationships.
Thompson calls one of his company's products the "Google of Guyana." This mobile app, called Directory.gy, is a resource on "everything Guyana," from current news and upcoming events to businesses, restaurants and public services. Directory.gy was recognized by the Guyanan government as the official application of the 50th anniversary of Guyana's independence and took first place at the PitchIT Caribbean Challenge in Jamaica.
Connecting with others
A challenge for Thompson was figuring out how to get the word out about his company.
"It's difficult in Guyana to come into the entrepreneurial ecosystem and just sell yourself alone," said Thompson, who grew up in a village called Melanie Damishana, about 17 kilometers from Guyana's capital of Georgetown. You have to expand your network and get people to "know you and what you can do."
Participating in a Young Leaders of the Americas Initiative pilot program helped him do just that. Thompson received valuable feedback on his ideas, and encouragement — "one of the most helpful things" about his YLAI experience. Since then, he has expanded his professional network and collaborated with another YLAI fellow on an IT application.
Thompson is optimistic that more IT solutions will catch on in Guyana and that IntellectStorm will become one of the top Guyanan tech companies. What's next? More connections and stronger relationships with other entrepreneurs and businesspeople. "Even people in government can be good connections to build," he adds. "You never know who could be the key to your progress."
Connecting with other entrepreneurs has helped Thompson stay positive and focused on his venture, especially during the first year when funds were tight. "Being part of a community of entrepreneurs helps you to realize that you're not alone, that your problems are not unique," he said.
His advice to other entrepreneurs? "Surround yourself with positive people who will build you up and not tear you down."
Article adapted from: https://ylai.state.gov/meet-man-behind-google-guyana-20170713/
UG partners with Mexico for School of Entrepreneurship & Business Innovation
26th June, 2017
0 comments
The University of Guyana(UG) is partnering with Mexico to deliver its School of Entrepreneurship and Business Innovation programme.
Vice Chancellor of UG, Professor Dr. Ivelaw Griffith at a recent press conference said that Mexico, through the local embassy, has committed to providing an instructor in the Spanish language for the new programme.
"We're asking every student that graduates from that School of Entrepreneurship and Business Innovation has one language other than English. Spanish will be one of those languages; Mandarin will be one of those languages and Portuguese," Professor Griffith explained.
"Mexico through its embassy and the UG have been developing over the last year several different strands of partnership," the Vice Chancellor said. In May, the Mexican Embassy sponsored a presenter to participate in the Turkeyen and Taine Talks on the oil and gas sector.
The UG has been restructuring its curriculum to meet the practical capacities of the local business community.
UG has been developing partnerships and "friendships" with local and international partners as part of its renaissance movement. The Vice Chancellor noted the renaissance project seeks to take different non-traditional paths and build friendships and partnerships in a variety of ways to improve the functioning of the University.
Article adapted from: http://gina.gov.gy/ug-partners-with-mexico-for-school-of-entrepreneurship-business-innovation/
"Profit" is a bad word! Entrepreneurship and the Guyanese mind
11th June, 2017
0 comments
By Dr. Ken Danns
I WAS teaching at the University of Guyana during the era of the Desmond Hoyte's Presidency and that of the succession in government of the PPP/C. I introduced what I termed the "Sociology of Enterprise" as an integral component of my SOC 100: Introduction to Sociology course which had enrolment numbers of between 100 – 150 students annually. The course lasted the duration of the academic year and students were introduced to theories on the origins of capitalism and entrepreneurship and required and trained to enact the role of entrepreneurs. The students were required to come up with a lawful business idea, develop a business plan and operationalise a short-term economic enterprise. This assignment explicitly stated that the more profit students successfully made, relative to their investment of time and money, the higher their grades would be for that assignment.
The students reported with great pride to the entire class on their rather innovative projects. These projects ranged from food businesses, farming, craft, organising large entertainment ventures, daycare, cleaning and other services, etc. Some of these enterprises have continued long after the class ended. The first couple of years the Sociology of Enterprise students did so as "individual entrepreneurs" or formed groups and worked together as "group entrepreneurs".
By the third year while maintaining the individual and group entrepreneurs' initiatives the entire class was turned into a "corporate enterprise", complete with a managing board of directors, including a finance director, and board chairman and secretary. My University of Guyana's sociology class, as a business incubator, initiated and developed successful and enduring projects like "Academic Freedom" a large all day fair held on Easter Monday on the Turkeyen Campus with the tag line "Academic Freedom, you got fuh come"; AWE Society – a theatrical production held at the National Cultural Center and "Miss University of Guyana Beauty Pageant". In all of these highly successful short term enterprises, repeated for several years, the students actively engaged the business community as advertisers, investors, service providers and the public as consumers. The media, paid and unpaid, were crucial in promoting the students' ventures. Students understood that all entrepreneurship involved risk taking and that many ventures fail.
The University of Guyana kept half of all profits made for use of its brand and facilities and these monies were used to buy computers, printers, office furniture, etc. that the university otherwise would not have been able to afford. The board of directors elected by the students accounted for all monies and paid each student from the profits. The Sociology of Enterprise Project maintained an account at Citizen's Bank leaving a token sum of money in the account so the next year's class would have some capital to start with.
I also lived what I preached by creating two successful businesses AWE Society Productions and the Center for Economic and Social Research and Action (CESRA). Many of my students created and sustained their own businesses after leaving the class. Entrepreneurship was not only taught and learned. It was also lived. The hundreds of students who took the course earned marks, money and a creative disposition to innovation and entrepreneurship.
The biggest problem I had as professor for the course was to convince our Guyanese students that it was okay to make money for themselves from their created enterprises. Students understood readily and eagerly related to the necessity for and challenges of innovation. But, the students in every class kept asking me same thing: "To whom or where do I/we donate the money I/we make". The idea of engaging in entrepreneurial activities exclusively for personal profit rather than for altruistic purposes made most students feel uncomfortable and seemingly clashed with their value orientations to economic life. For most of the students "profit" was a bad word. The path to success in life consisted of earning a degree and acquiring a "good job". Becoming an entrepreneur was not on their career radar. It required an epistemological break by students from their current understanding of economic life. I had to act as a "moral entrepreneur" and assured them that making money and a profit for themselves was a good thing. Further, that through their business enterprises they were providing a public service for private good.
Emerging from it post-colonial socialist past the Guyanese people were largely a nation of job seekers rather than wealth creators. The government was the dominant entrepreneur, followed by foreign enterprises, and the local private sector comprised mainly of family businesses. In addition, there were numerous small farmers, vendors and artisans engaged in "survival entrepreneurship".
Cooperative socialism
The Hoyte administration had abandoned cooperative socialism, restored market oriented economic policies and embraced the private sector as the engine of development. The emphasis was on attracting foreign investment – industrialization by invitation – and divesting state-owned enterprises. The PPP/C government maintained this trend and in addition promoted government partnerships with the private sector. While emphasising the role of the conventional private sector in the country's development, as a reality and an abstraction, these preceding governmental administrations maintained state dominance in the economy and were not very effective in promoting a vibrant entrepreneurial culture in Guyana.
Of course, survival entrepreneurship as a method to generate "income" rather than "profit" has always existed in Guyana. Tens of thousands of relatively new survival entrepreneurs have emerged unable to rely on paid employment alone from the government or from the private sector. Herein lies a virtual reservoir of untapped entrepreneurial talent waiting for a salubrious policy climate and appropriate incentives like paved roads, transportation, power, potable water and access to local and international markets to explode. Many operate in the informal sector and in the underground economy as "guerilla entrepreneurs". People are getting their hustle on, starting their own small businesses or at a minimum buying and selling commodities and services. Seems like everybody in Guyana selling something. Guyanese are earnestly seeking to explore entrepreneurial activities outside of their conventional employment. Sugar workers, for example, supplement their seasonal incomes as taxi and minibus drivers, farmers, artisans and shopkeepers.
A few months ago, I travelled along the coastlands from the University of Guyana's Turkeyen Campus in Georgetown to its Tain Campus in Berbice. I was fascinated to see the roadside markets in many villages with their bounty of greens, vegetables, colourful fruits, fish, shrimp, crab, chicken, beef, and other commodities tantalisingly displayed. These markets seemed to be flourishing more than ever. I tried only to think of this endless bounty of produce as "organic" and fresh, rather than wondering about their shelf life and what happens to these primary commodities when they are not sold. I tried to think of how very blessed and verdant Guyana is. If you even spit on the soil something will grow. Truly a green economy!
Most of these small enterprises are wholly dependent on the labour power of these survival entrepreneurs and lack survivability and prospects for transformative growth. A visa to the United States or Canada is a huge incentive to abandon these small enterprises and the country. If only the production of these primary goods can be converted into value added commodities through the application of technology to preserve, to can and to export. If only these vendors can be trained to tap the wind and hot tropical sun as reliable energy sources for manufacture in their communities.
Marked departure
The two year old APNU/AFC Coalition Government in Guyana has made a marked departure from its predecessors. It is decidedly and openly fostering entrepreneurship to generate employment, stimulate manufacturing and other value added enterprises and in general to give citizens a stake and a say in the development of the country and their communities. President David Granger in urging villagers to develop cottage industries stated: "Get into manufacturing; open packaging plants and factories! Villagers can do simple things by planting guava and using them to make jams and jellies; villages today are empty, so the villagers need to get involved in various manufacturing activities." Guyana's Minister of Finance Winston Jordan encouraged residents in the Town of Linden for example to "get involved in business" and assured them that the government will support their entrepreneurship.
This is a major policy shift where entrepreneurship is seen as a protocol for wealth creation and development not only by the conventional private sector, both local and foreign, but by Guyanese everywhere in the villages and townships. The Guyana government is seemingly cultivating an entrepreneurial culture among its peoples. Remarkable indeed! When the state plays the major and activist role in promoting private entrepreneurship countries develop rapidly. Examples are, China, South Korea, Taiwan and Japan.
This major paradigm shift in thought on Guyana's development must of course be accompanied by the conscious recognition that "profit" is not a bad word". Government regulations and taxation must function as incentives to wealth creation and profit generation rather than onerous burdens and disincentives. Celebrate the generation of wealth and profit. Promoting an entrepreneurial culture in Guyana as a development strategy importantly requires buy in by government administrators and not only its articulation by political leaders. Government bureaucrats must be oriented to stop seeing profit as a bad word. Emergent or established businesses must come to perceive government functionaries as enablers, rather than deadweights and vampires. The caring actions and long term commitment of the government are crucially important for bringing large segments of the vibrant survival entrepreneurship into the formal economic sector and above ground and enabling their sustainability. This is by no means to suggest that emergent business enterprises must be dependent on government for their survival. Private enterprise is economic freedom and a foundation of modern democracy.
The entrepreneur is important for development. It is through entrepreneurship that the forces of production are organised and revolutionised to create the wealth associated with industrial and postindustrial societies. The generation of profit is a good thing. It must be seen and treated as such by those committed to their own and the country's development.
Article adapted from: http://guyanachronicle.com/2017/06/05/profit-is-a-bad-word-entrepreneurship-and-the-guyanese-mind
School of Entrepreneurship looks to be a game-changer for UG
Come next semester, the University of Guyana (UG) will be opening the doors of its new School of Entrepreneur-ship and Business Innovation (SEBI), an initiative which Vice Chancellor Professor Ivelaw Griffith says is reflective of a re-examination of the relevance and delivery of the institution's programmes "in keeping with national development, industry needs, student-centred learning and faculty development."
In a nutshell, all of this means that the University of Guyana, having undergone a re-examination of the relevance of its curriculum to the .... read more here
Article adapted from: http://www.stabroeknews.com/2017/business/05/05/school-entrepreneurship-looks-game-changer-ug/
Discussion on School of Entrepreneurship & Business Innovation
Press Secretary and Television Anchor Malika N. Ramsey discusses the School of Entrepreneurship and Business Innovations. The team included members from the University of Guyana.
Click here to download the PDF file.
Empowering others through ICT – Eldon Marks is living his dream
18th April, 2017
0 comments
"LIVE YOUR dream. Be as crazy as you possibly can be, ignore the status quo, set your goals and go after them with blind determination," Social Entrepreneur, Eldon Marks said as he addressed a room full of entrepreneurs and software developers in a collaborative work space he had developed with his business partner, Chitra Dwarka.
Marks, who ever so often describes himself as a dreamer, is no stranger to Guyana, having won the Ministry of Public Telecommunication's first Hackathon along with his team from Version75 Solutions (V75) in November, 2016. But long before he had risen to stardom, Marks had been quietly working behind the scenes, molding the nation's youths to be the best version of themselves.
For 12 years, he lectured and mentored hundreds of students at the Department of Computer Science at the University of Guyana. It was at that university that the former Bishops' High School student had acquired his undergraduate Degree in Computer Science before pursuing a Master's Degree in Computer Science at Howard University, Washington D.C. At Howard he specialized in Artificial Intelligence and completed the programme in three semesters with a 4.0 GPA.
"I owe much of academic and professional development to the University of Guyana, more specifically to my former lecturers in the Department of Computer Science who later became my colleagues and mentors. The environment that I was afforded as a student and subsequently as a young lecturer gave me the opportunity to discover my true potential and reach further than I had ever conceived."
Although being exposed to what many describe as the "world of opportunities," Marks opted to return home to contribute to the development of his country in the fields of Information and Communication Technologies (ICTs) and Entrepreneurship.
"Looking out from a developing economy, it is easy to see what we don't have and it is easy to be consumed with studying our problems instead of solving them. ICT Entrepreneurs are much needed in Guyana for two reasons: (1) it is widely accepted that digital industries where an individual can electronically provide services and products regardless of geographic location are significant drivers for economic growth – simply put, a trained web designer with a laptop and Internet access can quickly and readily earn a decent living, even in Guyana. (2) The entrepreneur mindset is concerned with assessing problems to quickly and effectively solve them – taking action over talking about it."
Further, driven by his personal philosophy drawn from spiritual teachings and his innate desire to empower others while empowering himself, the husband and father of one made one of his many dreams a reality developing his own company – Version75 Solutions.
Marks explained that V75 is a community disguised as a company uniting user interface design specialists, graphics designers, marketers, web developers, mobile application developers, database developers and software engineers to deliver the most effective, comprehensive and unified solutions.
As a 'dreamer,' he told the budding entrepreneurs and software developers that there were risks that he had to take but it was important for his dream to materialize.
"There are realists and then there are dreamers. A realist would understand certain parameters and these parameters would be based on what they can see, what they can touch, what they can feel," he posited while explaining his perspective.
A dreamer, on the other hand he explains, pushes beyond the limits set by society. "So being a dreamer really means constantly challenging those social norms, the status quo, pushing the limits and eventually discovering what more we can actually do and how much more we can deliver," he explained.
For him there is no harm in taking risks. "There is really no harm in taking that risk of setting an objective, however, crazy it might be. You set the objective as high as possible and whether you achieve it or not, you learn from it. Be as crazy as you possibly can be, ignore the status quo, set your goals and go after it with blind determination," he posited.
Though there will be challenges, there are meant to be overcome, Social Entrepreneur emphasized.
Here in Guyana, Marks and his team at V75 were faced with the sad reality that acquiring local support from businesses in the field of ICT was a difficult one. But instead of 'packing up shop' and opting to do something else, they decided to target foreign markets. "Locally we are faced with this stigma with respect to our own local developers…. We have this diminished image of our own skills as Guyanese," he explained. Its first client was a Canadian company.
"Through networking, we were fortunate enough to secure an offshore client – a Canadian Insurance Company," he added. Today, 64 per cent of its projects are for clients outside of Guyana.
There was another challenge V75 had faced during its initial phase – the team had difficulties finding a common work space. It was out of that challenge that WeOwn Space was established approximately seven months ago.
The collaborative work space, situated at Lot 3 David Rose Street and Aubrey Barker Road, South Ruimveldt Gardens, Georgetown, in the words of Marks, "gives local startups a fighting chance," on a daily basis. It was further explained that WeOwn Space provides a unique environment for co-working, leaning, collaborating and networking to support Guyanese on their professional journey.
Though Marks is the founder of V75 and the Co-founder of WeOwn Space, he said for both entities there is no boss, noting that the input of all team members is important and valued deeply.
Outside of the world of ICT, Marks said he is a husband and father one. He said while pursuing one's dreams is important, family is important too.
"It is no easy task to be a full-time professional and have a family. The constant context switching and collection of responsibilities can often force you to choose one or the other. In my case, my family is the reason that I became a social entrepreneur who lives up to delivering value. I can better provide for them today while leaving behind a slightly better world, tomorrow."
Article adapted from: http://guyanachronicle.com/2017/04/09/empowering-others-through-ict-eldon-marks-is-living-his-dream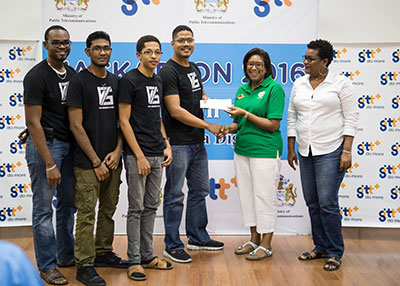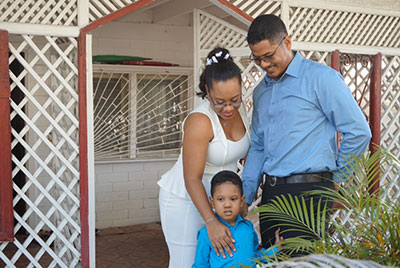 Contact Us
The University of Guyana
Turkeyen Campus
Greater Georgetown
Guyana
+(592)-222-2740
+(592)-623-8325
admissions@uog.edu.gy